Product Description:
Say Goodbye To Drab Nighties And Plain Pajamas With This Stunning. Olesilk Natural Silk Nightgown. It Is Made From The Premium Grade Mulberry Silk, Which Has A Heavy Weight Of 22
Momme With A 500 Thread Count.
The 22 Momme Weight Silk Fabric Makes This Nightdress Even More Durable And Last Longer. 
Have A Luxury, Relaxed Lifestyle With This Mid Length, Pull-Over Nightdress. Classic V-Shape Neckline, Short Sleeves And Loose-Fitting Skirt Provides A Super Comfortable Wearing.
Main Features:
International Certification: OEKO-TEX Standard 100% Natural Silk
V-Neck, Short Sleeves
Naturally Hypoallergenic And Therefore Resistant To Dust Mites, Making Them Perfect For Those That Suffer From A Range Of Allergies
Regulate Your Body's Temperature And Keep You Comfortable All Night Long.
Size Chart: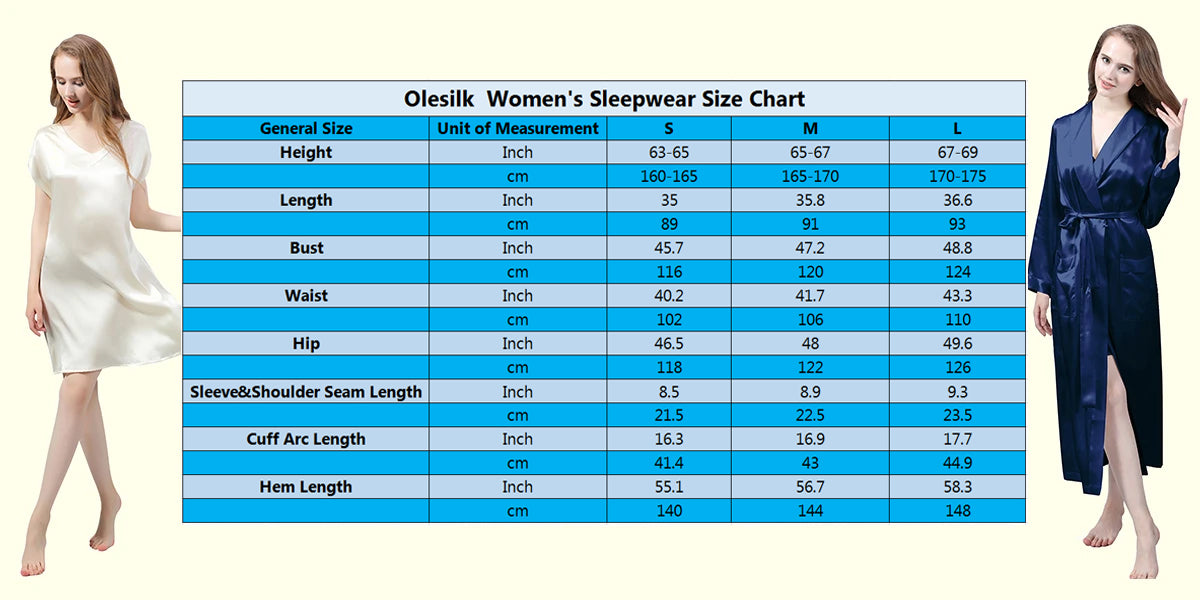 1.Free Shipping on Any Orders: Olesilk offers Free Shipping to all the countries we ship to. No minimum spend is required.
2. Shipping & Delivery Time: 2 business days to process and prepare your orders; 7-15 days for your orders to arrive. Shipping time may vary due some uncontrollable reasons, such as bad weather conditions.
3. Countries We Ship to: Australia, Austria, Belgium, Canada, Denmark, Finland, France, Germany, Hong Kong, Italy, Japan, Luxembourg, Netherlands, New Zealand, Norway, Singapore, Spain, Sweden, Switzerland, Taiwan, United Kingdom, United States.
4. No-Hassle 30-Day Return Policy.