Product Description:
Say Goodbye To Drab Nighties And Plain Pajamas With This Stunning. Olesilk Natural Silk Nightgown. It Is Made From The Premium Grade Mulberry Silk, Which Has A Heavy Weight Of 22
Momme With A 500 Thread Count.
The 22 Momme Weight Silk Fabric Makes This Nightdress Even More Durable And Last Longer. 
Have A Luxury, Relaxed Lifestyle With This Mid Length, Pull-Over Nightdress. Classic V-Shape Neckline, Short Sleeves And Loose-Fitting Skirt Provides A Super Comfortable Wearing.
Main Features:
International Certification: OEKO-TEX Standard 100% Natural Silk
V-Neck, Short Sleeves
Naturally Hypoallergenic And Therefore Resistant To Dust Mites, Making Them Perfect For Those That Suffer From A Range Of Allergies
Regulate Your Body's Temperature And Keep You Comfortable All Night Long.
Size Chart: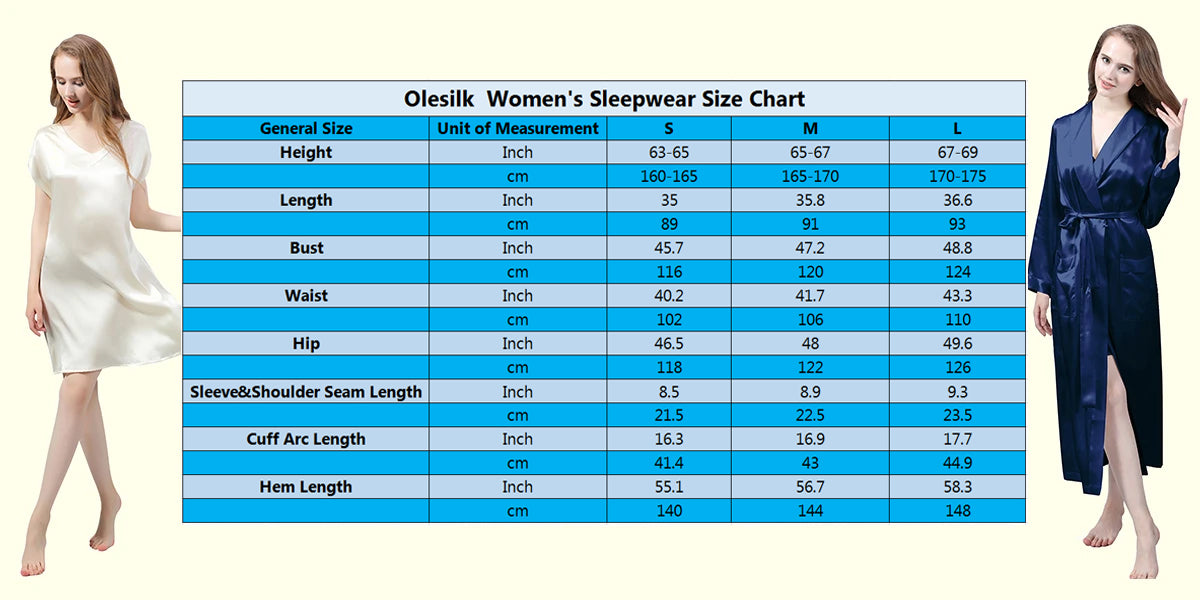 1.Free Shipping: OLESILK Offers Free shipping on all orders to all the countries we ship to.
2. Delivery Time: 2 business days to process and prepare your orders; 7-15 days for your orders to arrive. Shipping time may vary due some uncontrollable reasons, such as bad weather conditions.
3. Countries We Ship to: Australia, Austria, Belgium, Canada, Denmark, Finland, France, Germany, Hong Kong, Italy, Japan, Luxembourg, Netherlands, New Zealand, Norway, Singapore, Spain, Sweden, Switzerland, Taiwan, United Kingdom, United States.
4. No-Hassle 30-Day Return Policy.
5.Payment Of Credit Card 5.1. You click MasterCard, Visa Credit Card, American Express, Discover payment directly, you will be redirected to the PayPal website, then choose the payment method again, and fill in your card information to complete the payment. 5.2. You click the PayPal&Credit, you will be redirected to the PayPal website, the one is PayPal payment, the other one is Pay with Debit or Credit Card payment. Choose one to complete the payment. Note: Your credit card will be charged upon placement of your order.