Product Description:
Check out this Men's Silk Dressing Gown , crafted by 100% Natural Mulberry Silk of 22 Momme weight in super quality, 22 momme make the sleepwear more durable. It has nice designing and well tailored, pretty soft and smooth as baby's skin, will not rub and irritate the skin. More luxurious than cotton sleepwear, it's a great add-on to your sleepwear collection.
Compared with satin, mulberry silk is 100% from the nature, super breathable and non-toxic.  Silk contains 18 kinds of amino acids, is renowned for its hypoallergenic, antibacterial, anti-mite and anti-aging, recognized as a perfect material for skin, will boost the skin health. The breathable and smooth feeling of silk makes you feel more relaxed when sleeping, which will improve the sleeping quality. As we will spend almost third of our lives in bed, why not choose a better sleepwear for a sweeter dream?
Main Features:
• Crafted by Grade 6A top quality 100% natural mulberry silk of 22 Momme.
• Long sleeves.
• Stand collar.
• Two cell phone pockets.
• With belt.
• One size fits most.
• Naturally dyed, no color shading or fading, non-toxic, durable and easy care.
• Improve sleeping quality and boost skin health.
Cleaning Tips:
• Machine washable.
• Normal washing routines.
• Hang to dry. Cool Iron.
• Hand-wash recommended.
Size Chart: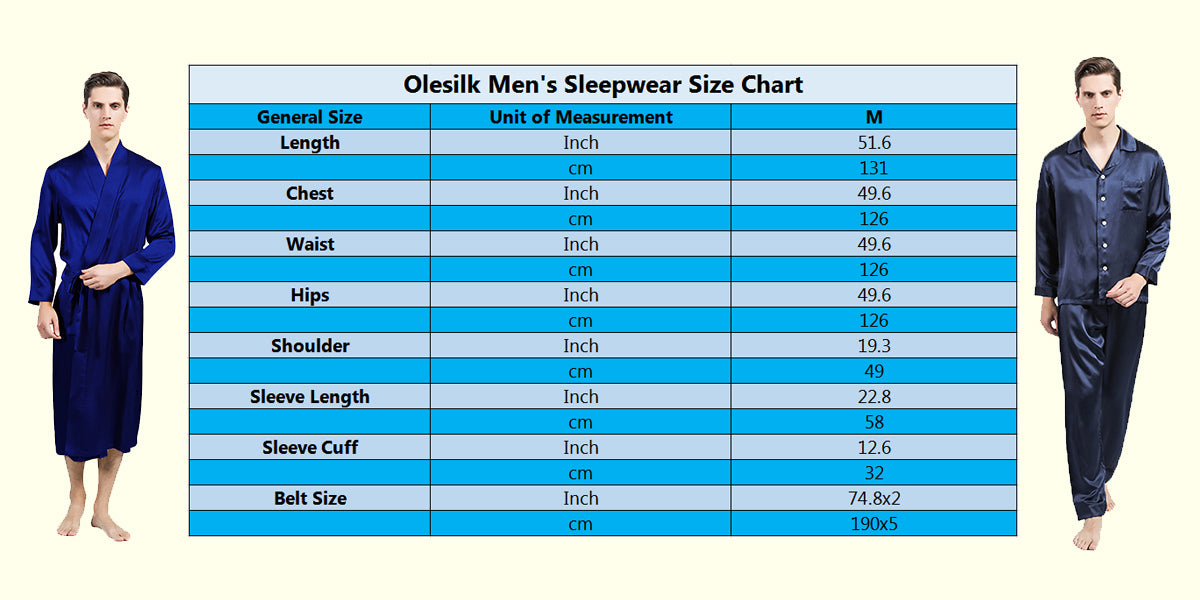 1.Free Shipping on Any Orders: Olesilk offers Free Shipping to all the countries we ship to. No minimum spend is required.
2. Shipping & Delivery Time: 2 business days to process and prepare your orders; 7-15 days for your orders to arrive. Shipping time may vary due some uncontrollable reasons, such as bad weather conditions.
3. Countries We Ship to: Australia, Austria, Belgium, Canada, Denmark, Finland, France, Germany, Hong Kong, Italy, Japan, Luxembourg, Netherlands, New Zealand, Norway, Singapore, Spain, Sweden, Switzerland, Taiwan, United Kingdom, United States.
4. No-Hassle 30-Day Return Policy.