Product Description:
Check out this Women's Silk Pajama Set with Short Sleeve Shirt & Pants, crafted of 100% Natural Mulberry Silk of 22 Momme weight in super quality, has beautiful designing and well tailored with classic piping. Pretty soft and smooth as baby's skin, will not rub and irritate the skin. More luxurious than cotton sleepwear, it's a great add-on to your sleepwear collection.
The protein-rich silk fabric is hypo-allergic, removes body sweat while retain your skin moisture, hightly boosting skin health and beauty. Short sleeved button-up pajama shirt and matching pants, more suitable in hot summer and can bring you cooling and comfort, makes you have a perfect sleeping quality.
Main Features:
•
 Crafted with top quality 100% natural mulberry silk of 22 Momme.
•
 Notched collar.
•
 Short sleeve button shirt.
•
 Classic Piping Designing.
•
 Matching pants, elastic waist with drawstring.
•
 Absorbent and dries quickly, cool in summer and warm in winter, hypo-allergic.
WHY CHOOSING SILK?
Silk is great for your skin, learn more about its benefits:
1.Great Material- Made of 100% 19 Momme Mulberry Silk in top quality, absolutely no chemical material , this smooth and lustrous weight silk raw material makes the pajamas super soft and comfortable.
2.Being Natural - Silk is a natural fiber, and its hypoallergenic quality helps to bring relief to allergies and asthma, which could be caused by cotton and other synthetic fibers.
3.Being Closed to skin -The silk pajama is pretty closed to your skin and in a light weight, no burden to your body, feel more relaxed when you sleeping compared with the cotton material, better for the the skin health.
4.Perfect for Hot and Cold Sleepers - Silk's natural temperature-regulating properties keep you comfortable in every season. It can effectively reduce hot or cold irregularities when sleeping by wicking moisture from the body and adjusting to body temperature,which will improve the sleeping quality.
5.Great for allergy sufferers - Silk fabric is naturally hypo-allergenic and will not carry allergy causing pollutants. All Olesilk products are using 100% natural mulberrry silk, to be free of chemicals and colored with environmentally-safe dyes.
Size Chart: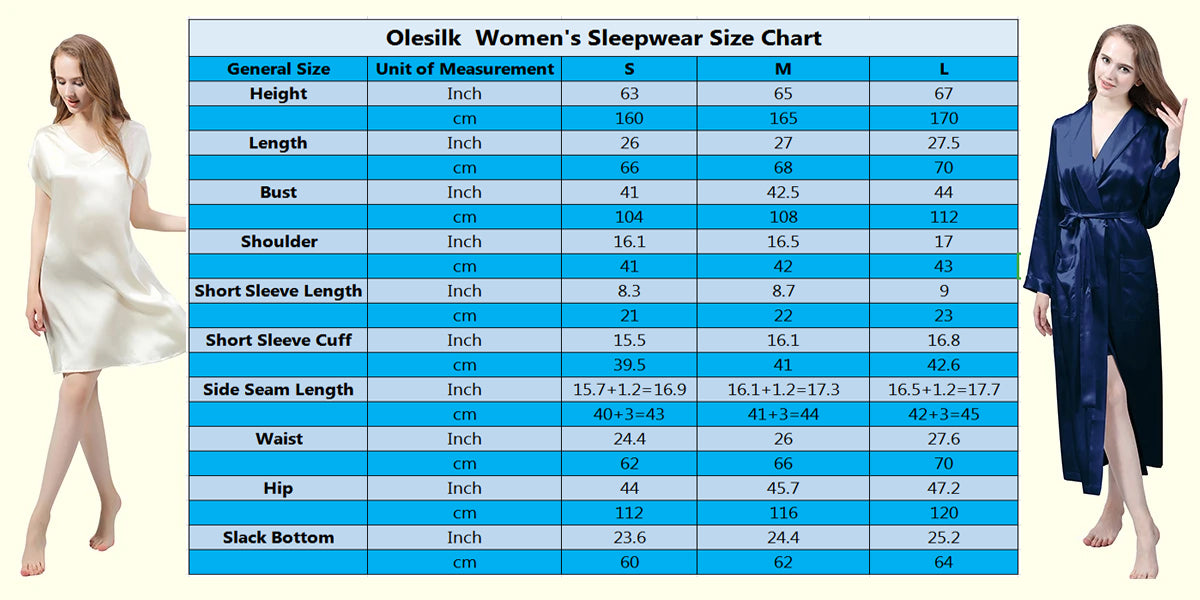 Learn More About - What's Momme, Benefits of Silk, How to Wash Silk
1.Free Shipping: OLESILK Offers Free shipping on all orders to all the countries we ship to.
2. Delivery Time: 2 business days to process and prepare your orders; 7-15 days for your orders to arrive. Shipping time may vary due some uncontrollable reasons, such as bad weather conditions.
3. Countries We Ship to: Australia, Austria, Belgium, Canada, Denmark, Finland, France, Germany, Hong Kong, Italy, Japan, Luxembourg, Netherlands, New Zealand, Norway, Singapore, Spain, Sweden, Switzerland, Taiwan, United Kingdom, United States.
4. No-Hassle 30-Day Return Policy.
5.Payment Of Credit Card 5.1. You click MasterCard, Visa Credit Card, American Express, Discover payment directly, you will be redirected to the PayPal website, then choose the payment method again, and fill in your card information to complete the payment. 5.2. You click the PayPal&Credit, you will be redirected to the PayPal website, the one is PayPal payment, the other one is Pay with Debit or Credit Card payment. Choose one to complete the payment. Note: Your credit card will be charged upon placement of your order.