Product Description:
Women's 22 Momme short 100 silk night robe. Imagine how smooth and soft it will feel when you slip into this silky mulberry silk robe. The 22 Momme weight silk fabric makes this robe even more durable and last longer. Mid length robe wrapped and tightened with same-tone sash, long sleeves. Match it with a silk nightgown and have some relaxed fun home-time while doing things like lying on couch, reading, watching TV.

Main Features:
• Fabric: top quality 100% natural mulberry silk of 22 Momme weight.
• Style: one-piece silk wrap robe with matching sash.
• Features: absorbent, breathable, retaining skin moisture, anti skin crease, hypo-allergic.
• Benefits: Improve sleeping quality and boost skin health.
• Cleaning Tip: Machine-washable in lukewarm water (30°C). Hang to dry. Cool Iron. Hand-wash recommended.
Size Chart: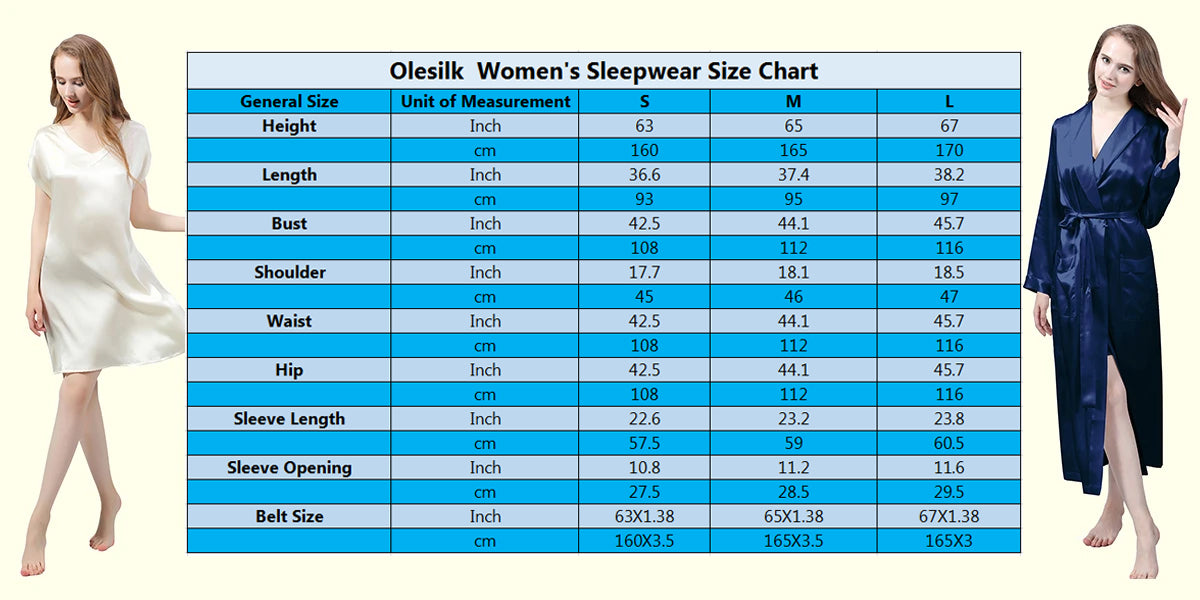 1.Free Shipping on Any Orders: Olesilk offers Free Shipping to all the countries we ship to. No minimum spend is required.
2. Shipping & Delivery Time: 2 business days to process and prepare your orders; 7-15 days for your orders to arrive. Shipping time may vary due some uncontrollable reasons, such as bad weather conditions.
3. Countries We Ship to: Australia, Austria, Belgium, Canada, Denmark, Finland, France, Germany, Hong Kong, Italy, Japan, Luxembourg, Netherlands, New Zealand, Norway, Singapore, Spain, Sweden, Switzerland, Taiwan, United Kingdom, United States.
4. No-Hassle 30-Day Return Policy.